SARS-CoV-2 Protein Homology Models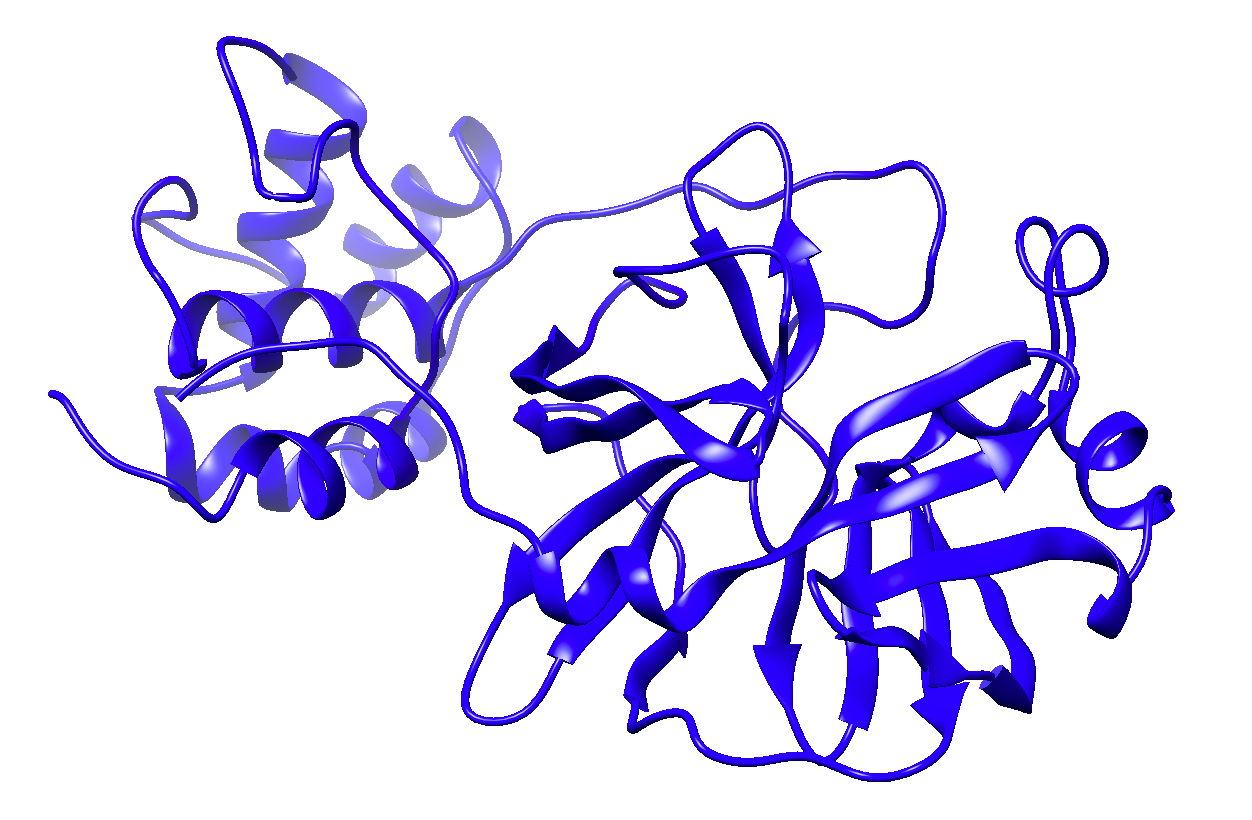 Models of the SARS-CoV-2 proteins – downloadable in PDB format on this page – were constructed using the AS2TS software package.
Protein sequences come from the SARS-CoV-2 reference genome here and here. Names and annotations in the following table come from that source.
The last part of each PDB file name indicates the model template by PDB ID and chain. For example, the nsp1 model is based on template PDB 2gdt, chain A. Each file includes additional information in REMARK fields.
Name

Long name

Annotation

Protein

Length

Coverage

Homology models

nsp1

leader protein

180
13-127

nsp2

638

nsp3

conserved domains are: N-terminal acidic (Ac), predicted phosphoesterase, papain-like proteinase, Y-domain, transmembrane domain 1 (TM1), adenosine diphosphate-ribose 1''-phosphatase (ADRP);

1945
1-111 207-373 413-676 746-1064 1089-1203

nsp4

nsp4B_TM

contains transmembrane domain 2 (TM2);

500
403-499

01_xxsBL62.Q76802_24_5.nCoV_nsp4_QHU36823_n.3vcb_A.pdb

nsp5

3C-like proteinase

nsp5A_3CLpro and nsp5B_3CLpro; main proteinase (Mpro); mediates cleavages downstream of nsp4. 3D structure of the SARSr-CoV homolog has been determined (Yang et al., 2003);

306
1-306

76_xxsBL62.Q76802_24_6.nCoV_nsp5_QHU36823_n.5r82_A.pdb

77_xxsBL62.Q76802_24_6.nCoV_nsp5_QHU36823_n.6lu7_A.pdb

nsp6

nsp6_TM

putative transmembrane domain

290

nsp7

83
1-83

00_xxsBL62.Q76802_24_8.nCoV_nsp7_QHU36823_n.6m71_C.pdb

03_xxsBL62.Q76802_24_8.nCoV_nsp7_QHU36823_n.5f22_A.pdb

nsp8

198
1-191

nsp9

ssRNA-binding protein;

113
1-113

00_xxsBL62.Q76822_25_10.nCoV_nsp9_QHU36823_n.6w9q_A.pdb

01_xxsBL62.Q76802_24_10.nCoV_nsp9_QHU36823_n.6w4b_B.pdb

nsp10

nsp10_CysHis

formerly known as growth-factor-like protein (GFL);

139
1-131

05_xxsBL62.Q76802_24_11.nCoV_nsp10_QHU36823_s.5c8t_A.pdb

nsp12

RNA-dependent RNA polymerase

NiRAN and RdRp

932
1-932

00_xxsBL62.Q76802_24_12.nCoV_nsp12_QHU36823_.6m71_A.pdb

00_xxsBL62.Q76822_25_12.nCoV_nsp12_QHU36823_.7btf_A.pdb

nsp13

helicase

nsp13_ZBD, nsp13_TB, and nsp_HEL1core; zinc-binding domain (ZD), NTPase/helicase domain (HEL), RNA 5'-triphosphatase

601
1-596

00_xxsBL62.Q76802_24_13.nCoV_nsp13_QHU36823_.6jyt_A.pdb

nsp14

3'-to-5' exonuclease"

nsp14A2_ExoN and nsp14B_NMT;

527
1-525

00_xxsBL62.Q76802_24_14.nCoV_nsp14_QHU36823_.5c8s_B.pdb

nsp15

endoRNAse

nsp15-A1 and nsp15B-NendoU;

346
1-345

00_xxsBL62.Q76802_24_15.nCoV_nsp15_QHU36823_.6w01_A.pdb

nsp16

2'-O-ribose methyltransferase

nsp16_OMT; 2'-o-MT;

298
1-298

03_xxsBL62.Q76802_24_16.nCoV_nsp16_QHU36823_.6w4h_A.pdb

S

spike

surface glycoprotein

1273
18-1147

ORF3a

ORF3a protein

275

E

envelope protein

ORF4; structural protein; E protein

75

00_xxsBL62.Q76802_24_19.nCoV_E_QHU36826_E.5x29_A.pdb

M

membrane glycoprotein

ORF5; structural protein

222

ORF6

ORF6 protein

61

ORF7a

ORF7a protein

121
15-98

00_xxsBL62.Q76802_24_22.nCoV_ORF7a_QHU36829_.1xak_A.pdb

ORF7b

43

ORF8

ORF8 protein

121

N

nucleocapsid phosphoprotein

ORF9; structural protein

419
47-173 250-364

ORF10

ORF10 protein

38
---
Models/methods: Molecular docking | Single-point GBSA | "Fusion" machine learning model | MD-trajectory-average GBSA | Safety and pharmacokinetic property predictions